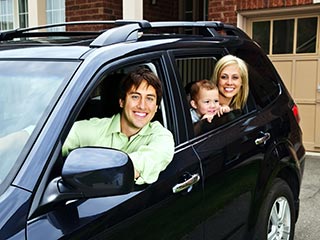 If your garage door is malfunctioning or simply in need of some attention, then our Garage Door Repair Cypress technicians are the team for the job. With a great deal of experience in this field, our skilled professionals are more than capable of handling even the most difficult problem. It's no mere fluke that we've become to be known as the best service provider in California. So what exactly can we offer you? Read on for a quick summary of a few common problems and how we can solve them for you.
Non-responsive Openers
Has your door simply stopped working? As one of the most used parts of any entryway system, your opener can occasionally experience a variety of issues. It's important to have a skilled expert either fix your current unit or replace it entirely, depending on the severity of the situation. Our experienced team can deal with every type of opener – chain, screw or belt drive – we've seen it all!
Accumulated Wear and Tear
Oftentimes people find that they use their garage door as the main form of entry into their house. This means that the system gets used a lot, especially in family homes. As a result, you may actually be putting a lot of strain on your door. Getting your system properly cared for via a routine maintenance service is great way to ensure its longevity. Our team can apply lubrication to various moving parts, which will help ensure their smooth operation. We also perform a close inspection of your door, and deal with whatever potential problem we find. This will end up saving you money, as it will prevent small issues from getting worse.
Damaged Panels
Whether it's due to a few overenthusiastic little leaguers, or a backing up vehicle, chances are your door has accumulated its share of dents and bruises over the years. When it's time to give your house a facelift, tending to these ostensibly minor issues should be on the top of your list. The reasons aren't purely aesthetic. Substantial dents will also affect the overall functionality of your door.
Garage Door Repair Cypress Is Here To Help
Whatever your problem may be, we can fix it. You don't have to suffer through any inconvenience, just pick up the phone! Our professional team will be happy to get you sorted out.
Call The Best – Get The Best:
Highly Skilled Specialists